Protective film is based on PE film and treated with Acrylic resin adhesive and several special additives. The glue is colourless and transparent witn good tenderness and stickness and enjoys wide applications in surface protection on various plates,sheets,profile,boards…etc. as for surface protection on different coating material,different product models with different sticknesses and specifications are available.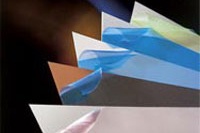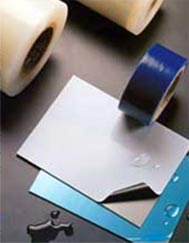 Product specifications:
Custom specifications are available.
Colours:

Transparent, creamy, blue, black and white, printed, custom colors are available.

Protective film for Stainless steel plate:

mirrored steel plate,frosted steel plate, colored steel plate…etc.

Protective film for Aluminium plate:

aluminium plate, coarse-grain aluminium plate, aluminium profile, frosted aluminium profile, sprayed aluminium profile, electrophoresis aluminium profile, dull sprayed aluminium profile, coarse sand blasted aluminium profile…etc.

Protective film for Building materials:

Fine frosted plate , coarse-grain frosted plate, aluminium-plastic plate, ceiling, frosted ceiling, artificial marble, plastic-steel profile, ceramic tile, marble, glass plate, curtain wall, colorful graphic board, polyester furniture furniture board,painted decorative board, coarse-grain polyester furniture board…etc.

Protective film for Electronic and electric Device materials:

electronic screen, meter panel,automobile panel,shell,airconditioner's surface,various household appliances surfaces, various household appliances surface protection,titanium plate…etc.

Protective film for Plastic sheet:

Acrylic(PMMA)sheet, PVC sheet, ABBS sheet, plastic sheet…etc.

Protective film for Other Applications:

dust-removing protecting film, dust-removing roller and other cleaning marerial in dust-free workshop,carpet..etc.
We're here to help!
Contact us on +91-8691013143 should you have any questions or alternatively complete the Quick Quote form to receive a custom quotation.